http://blog.pinkprincess.com/?svecha=che-cose-opzioni-binarie&f79=ae I recently enjoyed a very tasty quinoa and vegetable dish served with grilled chicken and a green salad – it was just divine! This inspired me to make a few quinoa dishes from the recipe book 'Cooking with quinoa the supergrain' by Rena Patten, and I'd like to share with you the recipes of the dishes I made. Here they are (with my comments in italics):
Creamy Coconut and Mango Pudding
http://theharrisongroup.com/contact.htm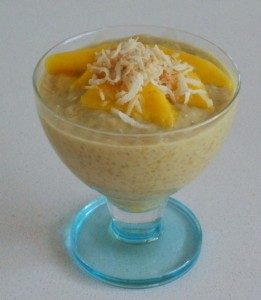 Serves 6-8
check here Ingredients
¾ cup of quinoa rinsed and drained
2x400g cans coconut milk (preferably organic) plus extra ½ cup http://salpasafarit.fi/?kalimo=alb-forex-indir&29b=a4 (I used ½ cup of coconut cream instead of milk)
¾ cup raw sugar his comment is here (1/2 cup or less is plenty in my view)
2 fresh mangoes
1/2 cup of roasted coconut flakes
check here Place the quinoa in a large saucepan with all the coconut milk and sugar. Bring to the boil then reduce the heat, cover and simmer on low heat for 20-25 minutes until thick and creamy ( click to read more I found that the cooking took around 40 minutes).
this website Meanwhile, peel the mangoes. Thinly slice half of one to use as a decoration later, set aside. Cut the remaining mangoes into small pieces. When the quinoa is soft and cooked, stir through the mango pieces and pour into individual bowls or a large serving bowl. Sprinkle with the toasted coconut and decorate with the mango slices. Refrigerate before serving. To toast the coconut flakes, place into a small non-stick frying pan and toast over a low heat – there is no need to add any oil or butter.
http://clarionmusic.com/?kyzja=migliore-opzione-binaria-EA&dd2=cc migliore opzione binaria EA follow site My comments: It's best to l click eave the dish in the fridge overnight to infuse and develop flavours. After taking it out of the fridge, add more coconut cream, if needed, as quinoa swells and absorbs the liquid. My modification was to make a topping with crème fraiche and lemon juice (mix them together). It balanced the flavours very nicely. Roasted coconut flakes are just perfect and so crunchy. See the above photo to check out my version of this pudding:)

Chicken Salad with Quinoa
Serves 4
http://dijitalkss.com/pazarlamacilarin-arthur-schopenhauerdan-ogrenecegi-5-ders?1534-D83A_1933715A=9976b89afb84b42f80d0a849dfa7ce370befb7b2 Ingredients
2 chicken breast fillets
1 cup quinoa gran, rinsed and drained
2 cups chicken stock or water
3 tbsp chopped parsley
2 tbsp chopped chives
1 tsp finely chopped rosemary
20 black kalamata olives, pitted and halved
1 punnet cherry tomatoes cut in half
2tbsp balsamic vinegar
4 tbsp extra virgin olive oil
1 generous tbsp horseradish cream
Celtic salt and freshly ground black pepper
Preheat oven to 170C. Rub the chicken breasts with little olive oil and season with salt and pepper. Place on a baking tray and roast in the oven for about 15 minutes until cooked. Remove from the oven, cover with foil and allow to rest. Place the quinoa in a small saucepan with the stock or water, bring to the boil then reduce the heat, cover and simmer for 10 minutes until all the water is absorbed. Remove from heat and cool completely. When the quinoa has cooled, place it in a salad bowl. Shred the chicken into bite-sized pieces and add to the bowl with the parsley, chives, rosemary and olives. Cut the cherry tomatoes in half and add them to the bowl.
Whisk the vinegar, olive oil, horseradish cream, salt and pepper together, pour over into the salad, toss gently and serve.
Sweet Potato and Zucchini Pie (vegetarian)
Serves 4-6
Source Ingredients
1 cup quinoa rinsed and drained
2 cups water
2 tbsp of olive oil
1 medium onion, finely chopped
2 cloves garlic, finely chopped
400g zucchini coarsely grated
500g orange sweet potato, cooked and mashed
4 eggs
1 cup grated cheese
1-2 tomatoes thickly sliced
Celtic salt and freshly ground pepper
Preheat the oven to 180C. Place quinoa in a small saucepan with the water. Bring to the boil, reduce the heat and simmer for 10 minutes until all the water is absorbed. Heat the oil in a small frying pan and sauté the onion until soft and golden then place in a large bowl. Add the cooked quinoa, garlic, zucchini, sweet potato, lightly beaten eggs, cheese, salt and pepper and mix to combine.  Pour the mixture into a greased ovenproof dish and arrange the slices of tomato on top. Bake for 30-40 minutes until the pie is set and browned on the top. Serve with a green salad.
See cytotec where can i buy in Rochester New York Part 1 of this article for nutritional information on quinoa.
Any questions or comments are most welcome! Enjoy!

check over here Joanna Sochan
Naturopath
Herbalist
Nutritionist
Source: 'Cooking with quinoa the supergrain' by Rena Patten
Check out other great recipes here:
watch Like what you've read? Spread the word to family and friends – share this post!