Magnesium is an essential mineral that is critical for proper function of a number of body systems. For example, if levels of magnesium present in the nervous system fall below certain levels, it can't function effectively resulting in 6ac9f751a6aa6b393f54061e77c70885 anxiety, irritability, tension, stress and many other systemic disturbances.
It also functions as a co-factor in more than 300 enzyme reactions and is required for energy production and other vital metabolic processes. Importantly, magnesium has the ability to affect http://theharrisongroup.com/contact.htm musculoskeletal system in multiple ways as it is essential for muscle relaxation and contraction, including the heart muscle, hence any deficiency will affect the entire cardiovascular system.
Although severe magnesium deficiency is less common, I find sub-clinical deficiency is widely prevalent in my clients as excessive or chronic stress experienced by many of them significantly increases the need for magnesium. People who may be at increased risk or factors which may promote deficiency include: the elderly; those with gastrointestinal diseases or chronic diarrhoea; metabolic disturbances such as insulin resistance or type 2 diabetes; alcoholism; those with increased loss through perspiration (in hot climates or high levels of physical activity/ sweating); and those using medications such as laxatives or certain diuretics, among others.
There are MANY more magnesium reqiurements and benefits for the body, and a large number of studies confirm just how important it is for health and wellbeing. Examples of important studies related to the nervous and cardiovascular system functions include the following:
Deficiency induces anxiety and related behaviours thus adequate intake is needed for excessive or chronic stress (1).
Chronic deficit is linked with type 2 diabetes and high blood pressure suggesting that an increased intake will reduce the risk as well as symptoms (2).
888 binary options or forex Vitamin D requires magnesium as a co-factor to work in the body. In addition, hepatic and renal vitamin D conversion into the active, hormonal form is also magnesium dependent (3). This is also confirmed by my clinical experience. For some people it's really difficult to raise their levels of More about the author vitamin D despite of supplementing with high doses over a longer period of time (3-6 months). I find that supplementing magnesium and vitamin D together facilitates an increase in vitamin D levels in majority of people.
It plays a role in go to link lowering blood pressure. Researchers concluded that "magnesium supplementation appears to achieve a small but clinically significant reduction in BP" (4).
Majority of people who have a long standing magnesium deficiency need to supplement for 3-4 months at therapeutic (higher) doses as needed per their condition, to replenish the stores. This process must be supervised by a knowledgeable health professional who will select an optimal dose and the right type of magnesium for your condition.
Importantly, most of over-the-counter supplements contain cheap and poorly assimilated forms plus they don't provide enough of elemental (pure) magnesium to make a real difference. After the magnesium is replenished the dose is reduced and many people are able to get enough of it from a well-designed diet and some supplementation, when required e.g. at times of increased stress.
Short self-assessment
Take the opportunity to test your magnesium levels by completing the short self-assessment below to determine if your magnesium level is likely to be low. The questionnaire is based on my experience treating magnesium deficiency and includes the most common symptoms I came across in my clinical practice. Select options that apply to your circumstances.
http://eminentreklambyra.se/?sisjandra=bin%C3%A4r-optionen-traden&440=22 RISK FACTORS
http://onodenje.com/?strydor=die-besten-bin%C3%A4re-optionen-roboter

√

Risk factors / contributing factors

Points

High stress, anxiety and irritability
5
High weekly levels of exercise with heavy sweating
5
High coffee intake – more than 3 per day
5
Daily alcohol use
5
Regular consumption of soft drinks containing caffeine (> 2 days/ week)
5
Frequent diarrhoea or vomiting
5
Oral contraceptive pill use
5
Chronic occupational exposure to loud noises (e.g. traffic related)
5
Diuretic, laxative, antacid, ACE inhibitor, oral corticosteroid use
5
Diet lacking in leafy green vegetables
5
Diet high in processed and takeaway foods
5
http://kaffehornan.se/johanna-fran-enklaknep-se/

TOTAL:



http://revedecabane.com/?ower=ioption-bonus&fc3=f9 ioption bonus Results: If your total score is more than 20 points, you are likely to be magnesium deficient
my company DEFICIENCY SYMPTOMS
www iqoptionen com

√

Symptom

Points

Muscle cramps, spasms, or pain – e.g. leg/ foot cramps, back and neck ache
5
Muscle twitches (e.g. eyelids), ticks or jerks, and/ or muscle weakness
5
Muscle tremors – e.g. involuntary shaking of hands or arms
5
Poor mood and irritability
5
Poor concentration
5
Frequent constipation
5
Anxious, agitated | irritable | having panic attacks
5
Heart palpitations | arrhythmias
5
Elevated blood pressure
5
Breathlessness | chest tightness
5
Insomnia | difficulty falling asleep or frequent waking up during the night
3
Fatigue | frequent sighing | poor exercise endurance
3
Sensitivity to loud noises or sudden bright light
3
Headaches | migraines
3
Menstrual cramps | pain
3
Frequent chocolate craving – dark chocolate is high in magnesium!
3
source link

TOTAL:



http://cactus.com.au/downloads/ Results: If you selected more than five symptoms, especially out of the first 10, you are likely to be deficient
(i.e. score of 20+)
Food sources of magnesium
Fortunately, magnesium is found in a wide range of foods with plant foods being the richest sources. Foods high in magnesium include:
more info here Green leafy vegetables (contain large amounts of magnesium) – spinach, kale, parsley, silver beet
a fantastic read Other vegetables including beetroot, broccoli, bok choy and sea vegetables such as kelp, arame, wakame, nori
see Nuts and seeds – sunflower seeds, sesame seeds, hazelnuts, almonds, cashews, pistachios, Brazil nuts
Other foods – organic molasses, beans and lentils, dried figs and apricots, dark chocolate (containing more than 70% cocoa, the higher % of cocoa the better)
Animal sources – prawns, sardines, mackerel, bee pollen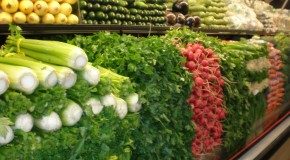 As outlined above, eating foods containing magnesium on a daily basis is easy and vital to prevent deficiencies; however, you also need to absorb and utilise magnesium from your diet by having your digestion working well. Otherwise even if you eat the best organic foods, you will not be able to extract the full goodness out of them and continue to be deficient.
Next steps
Complete the self- assessment questionnaire to gauge if you likely have the need for more magnesium in your body and thus your diet. Please feel free to contact me for further help assessing your magnesium requirements (and the levels of other synergistic nutrients magnesium needs to work properly in the body), as well as to assess your gut and digestion health plus to discuss the most suitable supplementation, if required.
Good health and blessings

Joanna Sochan
Naturopath
Herbalist
Nutritionist
References
1) Magnesium deficiency induces anxiety and HPA axis dysregulation: Modulation by therapeutic drug treatment. Sartori SB, Whittle N, Hetzenauer A and Singewald N, 2012, Neurophamacology, Volume 62, Issue 1, January, Pages 304-312. http://www.sciencedirect.com/science/article/pii/S0028390811003054#
2) Magnesium and the Cardiometabolic Syndrome. Barbagallo M and Dominguez LJ, 2012, Curr Nutr Rep 1:100–108. http://link.springer.com/article/10.1007/s13668-012-0010-%206#page-1
3) Magnesium deficit – overlooked cause of low vitamin D status? Zittermann A, 2013, BMC Medicine, 11:229. http://www.biomedcentral.com/1741-7015/11/229
4) Effect of magnesium supplementation on blood pressure: a meta-analysis. Kass L, Weekes J and L Carpenter L, 2012, European Journal of Clinical Nutrition, 66, 411–418.
5) www.eaglenaturalhealth.com.au
Photo credit: ShotHotspot.com via photopin cc
Check out other relevant posts here:
Like what you've read? Spread the word to family and friends – share this post!