wo kann man binäre optionen handeln As a nutritionist, I get asked by my clients all the time: "What are really nutritious breakfasts that taste and look great and take 5 minutes to prepare". Here are my top suggestions!
My 'perfect' breakfast
http://ajm-web-designs.co.uk/main-sitemap.xsl This is what a great and easy breakfast looks like to me!
billig Viagra snabb leverans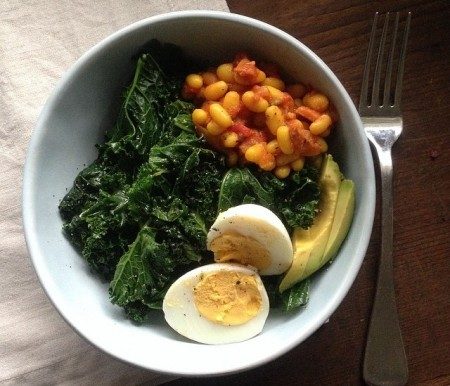 Photo credit: The Holistic Ingredient
 Baked beans with tomato sauce (all organic – look for organic baked beans in supermarkets)
1-2 hard-boiled eggs (organic)
½ avocado, sliced
Lightly fried or steamed spinach leaves (or baby spinach leaves) with olive oil and sesame seeds
Sea salt and pepper to taste
1-2 pieces of spelt sourdough organic bread (optional or when you need extra power on the day:)
Boiled eggs with avocado, cherry tomatoes + fresh herbs
http://ortdestreffens.de/?yabloko=bin%C3%A4re-optionen-ohne-risiko&8b7=c4 Preparation time: 5 minutes
2 hard-boiled eggs (can be cooked the night before)
6 halved cherry tomatoes
1/2 avocado, sliced
2 tbsp chopped herbs e.g. basil, sage, parsley
1 tbsp extra virgin olive oil
Sea salt and pepper to taste
fisco sulle opzioni digitali Simply combine all ingredients. Serve on its own or with a piece of sourdough bread. Serving suggestion – instead of having it with bread add 2-3 tbsp of warm cooked source quinoa and mix well. It's delicious!
Nuts, seeds, fruit + yoghurt mix
click Preparation time: 5 minutes (1 serving)

2 tbsp flax seeds
½ tbsp pumpkin seeds
½ tbsp sunflower seeds
½ tbsp sesame seeds
200g organic full-fat plain yoghurt (cow, goat or sheep) or dairy free coconut yoghurt
4-6 walnut halves
1 piece of fruit (e.g. a cup of papaya, a handful of blueberries or 1-2 buy Pregabalin in uk kiwi fruits)
1 tsp maca powder and raw cacao mix sold in health food shops – optional but great to have for those who need an extra energy boost
Buy Tadalafil Tastylia 20mg without prescription Put flax seeds, pumpkin, sunflower and sesame seeds into a coffee grinder, grind until smooth. Place yoghurt in a bowl, add walnut pieces and the seed mixture. Combine all ingredients, add a bit of water to achieve a creamy consistency. Cut papaya or other fruit into pieces and to the mixture either on the top or mix everything together. Sprinkle with cinnamon for extra antioxidant and sugar balancing boost.
option 24 trading binary options brokers Preparation time: 5 minutes (overnight soaking required) (1 serving)
¾ cup water
⅓ cup organic steel cut oats
2 tbsp chia seeds
1 tbsp honey
½ tsp cinnamon
½ tsp real vanilla extract
¼ tsp lemon juice
1 scoop of protein powder (optional but it will give you some extra energy!)
check this link right here now Combine all ingredients in a glass jar or container with a lid. Seal, shake and refrigerate until the next morning. Then add 1 scoop of a quality protein powder and mix all ingredients. Top up with a handful of berries, cut pineapple or papaya and/or sprinkle with nuts and seeds. Prepare this meal the night before, or make a bigger batch and you'll have a healthy breakfast ready to have for the next couple of days.
Super easy porridge
http://blog.stylein.se/?vinuk=bin%C3%A4ra-optioner-bedr%C3%A4geri&3a1=17 Preparation time: 5 minutes (overnight soaking required for super quick cooking) (1 serving)
1 cup organic rolled oats
1 sliced apple or pear
1 tsp organic butter
¼ tsp Celtic salt
1 tbs lemon juice
binäre optionen buch Soak the oats overnight in water with 1 tbs of lemon juice. In the morning bring the mixture to the boil (add more water if needed), add the salt and cook for 1-2 minutes. you can add sliced raw apples at this stage. Cover and let it sit for a few more minutes. Add butter or cream and fruit. Sprinkle with nuts and/or cinnamon. Replace water with almond or quinoa milk (diary alternatives). Add 1 scoop or around 20-25g of protein powder for extra protein boost to reduce cravings later on in the day!
Have a go at making great breakfasts this week! What's your favourite breakfast? Please share your comments and recipes below for all readers to expand their menus and learn new food combinations:)
Enjoy!

see url Joanna Sochan
Naturopath
Herbalist
Nutritionist
Photo credit: Shutterstock
Check out other posts here:
original site Like what you've read? Spread the word to family and friends – share this post!